TOWNHOUSES FOR SALE IN LOT P CIPUTRA - QUICK DEALS IN 2022
Park townhouses belong to P subdivision in Ciputra, Hanoi. The Park Tay Ho townhouses also known as townhouses in lot P Ciputra have a complete master plan with 75 villas and townhouses with typical areas such as 120sqm, 150sqm, 180sqm, 230sqm, and 300sqm.
SUBDIVISIONS IN CIPUTRA, HANOI
Ciputra villa project is developed through many stages with different subdivisions. We will show you the name of each stage of development in the Ciputra project.
Stage 1: Includes Series C1, C2, C3, C4, C5. Range D1, D2, D3, D4, D5. G1, G6, G9, G10 series.
Stage 2: Includes sequences T1, T2, T3, T4, T5, T6, T7, T8, and T9
Stage 3: Q series (also known as M subdivision)
Stage 4: Grand Gardenville Villa( villas in subdivision K), and The Melody Village.
Stage 5: Construction of townhouses and villas in P subdivision
LOCATION IN TOWNHOUSES FOR SALE IN LOT P CIPUTRA
Townhouses in the project are located in a prime location, in the heart of the residential area in Ciputra urban area, which is a crowded place. The number of townhouses is relatively rare, so the demand to own these units becomes even stronger.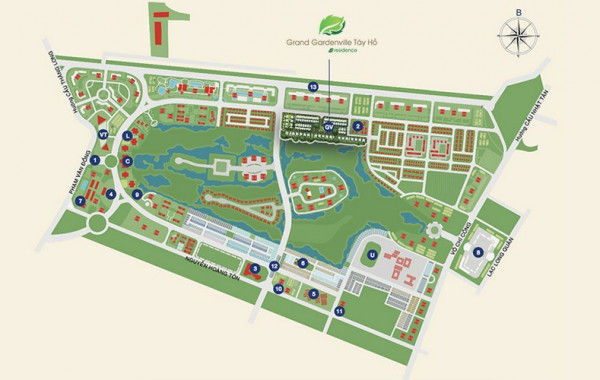 - Surrounding the adjacent apartments are busy subdivisions that quickly serve the needs of customers' settlement and entertainment.
- The North is the K subdivision
- The south is an amusement park with a small river system running around.
- The west is the Sunshine Wonder 1 villa area
- The East is Sunshine Wonder Villas
AMAZING UTILITIES IN CIPUTRA - TOWNHOUSES FOR SALE IN LOT P CIPUTRA
Townhouses for sale in P Ciputra area have a unique architectural style. All townhouses are built next to each other and have the synchronous architecture to form a unified whole. Townhouses to Ciputra Nam Thang Long is also a product to help connect families and build a civilized community.
Owning townhouses for sale in P Ciputra is is definitely a potentially profitable investment channel. As a limited product in a luxury urban area, the demand for buying and selling adjacent houses in P Ciputra area is quite large. Here, customers can immerse themselves in full of world-class facilities.

ĐĂNG KÝ MUA/THUÊ THEO YÊU CẦU CỦA QUÝ KHÁCH